PERSONAL TRAINING PROGRAMS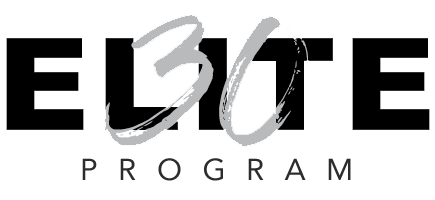 Body Boutique's ELITE30 Program is our latest initiative to get you incredible results with a minimal time commitment. Our ELITE30 program offers a series of exercise classes and exercise modalities tailored into 30-minute sessions designed to get you in, get you fit, and get you out and on with your day.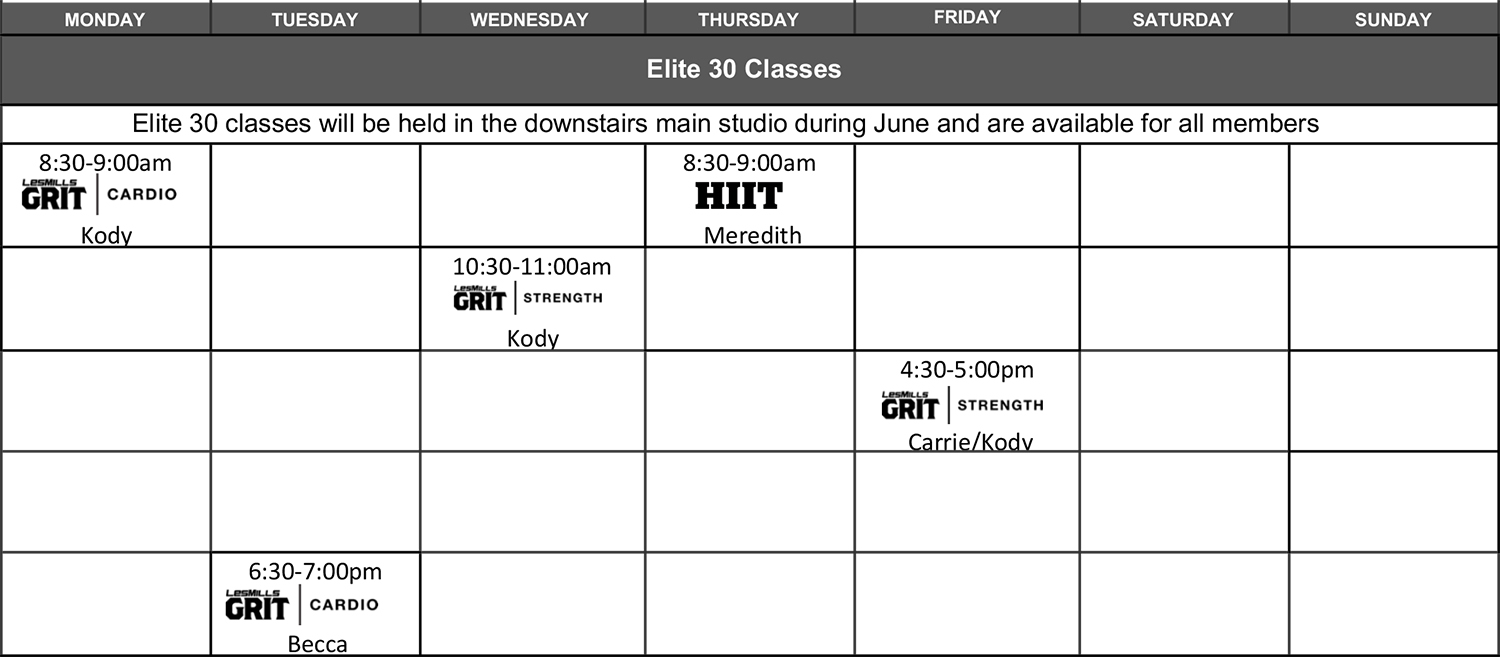 ELITE30 DESCRIPTIONS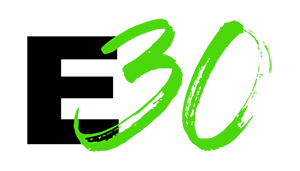 LES MILL GRIT™ Strength is a 30-minute high-intensity interval training (HIIT) workout, designed to improve strength and build lean muscle. This workout uses barbell, weight plate and body weight exercises to blast all major muscle groups. Cutting edge HIIT and combines it with powerful music and inspirational coaches who will be down on the floor with you. motivating you to go harder to get fit, fast.
LES MILLS GRIT™ Plys is a 30-minute high-intensity interval training (HIIT) plyometrics-based workout. designed to make you perform like an athlete. This workout uses a bench and combines explosive jumping exercises with agility training to increase explosiveness and to build a lean and athletic body.
LES MILL GRIT™ Cardio is a 30-minute high-intensity interval training (HIIT) workout that improves cardiovascular fitness, increase speed and maximize calorie burn. This workout uses a variety of body weight exercises and provides the challenge and intensity you need to get results fast.
GRIT SERIES Instructors will rotate between all three GRIT programs to give participants a variety of workouts.
TKO is a 30-minute high intensity boxing drills workout where you strike, punch and kick your way to superior fitness.
TRX™ Stretch is a mobility and core-focused workout using the TRX™ Suspension Trainer with more traditional strength, stability and flexibility exercises. There are multiple benefits to stretching while using the TRX™. You will be able to move through greater range of motion which will deepen the stretch, making it more beneficial.
TRX™ All new TRX™ based classes will push you to new levels of strength, mobility, and flexibility. Using the TRX™ Suspension Trainer and your own body weight, you will be able to perfect your own body alignment and movement patterns. You will leave class feeling stable, strong, lean, and moving at your best.
HIIT Blast some major calories as you utilize multiple styles of training and pieces of equipment (TRX Suspension Trainers, Kettlebells, Rowers, etc.) These total body workouts will leave you sweaty and strong in just 30 minutes!
ONE-ON-ONE PERSONAL TRAINING PROGRAMS
Body Boutique's Personal Training programs focus on your individual health and fitness goals in a one-on-one private session with a certified personal trainer. All Body Boutique Personal Trainers are experienced, knowledgeable and passionate about helping clients crush their health and fitness goals.
There are numerous benefits to utilizing the services of a certified personal trainer. It's not only a motivating experience, it's a highly educational experience! Your personal trainer will teach you how to properly perform the prescribed exercises in both a safe and effective manner. Your personal trainer gives you access to a fitness professional who will accurately assess your needs and guide you towards setting realistic goals and establishing reasonable expectations. Your trainer will provide you with an unbiased, straight-forward analysis of your on-going progress. Studies have proven that working with a certified personal trainer will not only help you to be more successful in reaching your fitness goals, but it will also help you to adhere to a long-term fitness program.
We Offer Training Options Including:
One-on-One Training
Free-Style Small Group Training
Tribe Team Training
Programs can also be designed for those who prefer to work out on their own, and more.
FREE-STYLE SMALL GROUP TRAINING
Small Group personal training is a great way to have a more personalized workout experience while benefiting from the economy of working with a group to maintain cost-effectiveness. Working with a small group allows the coach to offer clients more supervision over that of a traditional group exercise class. In a Small Group training session you might see participants of different fitness levels and the coach providing clients with exercise modifications.
Small Group personal training sessions are not only cost-effective, they are more energized! Clients often report that participating in a small group helps motivate them to perform better, achieve more, attend more regularly and therefor they are more satisfied with their over-all results.
A group training session needs a minimum of three participants and generally can accept up to six participants. You can join in with an existing group or start your own group with your friends.
Your trainer will structure the training sessions based on goals outline by the group and will also provide exercise modifications for different individual fitness levels of the group participants.
For more information please email us at info@bodyboutique.net